Engineering, Medical, MBA Management Quota Admission Procedure
Admission Procedure: Direct Admission in private colleges of India through management quota in any of the courses of your choice!!.
This is 100% legal and meant for students who belong to high or medium-class families looking to get admitted to good colleges to fulfill their dreams.
All seats under this quota in any colleges is handled by the college management and that is why it is known as management seats.
Depending on your budget you can take Direct admission in Engineering, Medical and MBA colleges in India.
What is Management Quota Admission (Procedure)?

Management quota seats in private colleges & universities are available for various undergraduate & postgraduate courses.
Students can take advantage of management quota seats for higher education.
A professional admission counselor helps students to apply for management quota seats.
An academic counselor will provide you with information about colleges and the admission process.
Educational institutions authorize career counselors to approach aspirants & counsel them for college admission.
A career counselor guides students with a low score in academics or entrance exams for higher education.
Management quota seats help career counselors to facilitate admission to top colleges & universities.
Management seats are available for Architecture, Engineering, Medical, Dental, Law, Allied Health Sciences, Ayush, Science, Commerce & Arts courses.
Students & Parents often consult with career counselors while planning for higher education.
Management Quota Seats Admission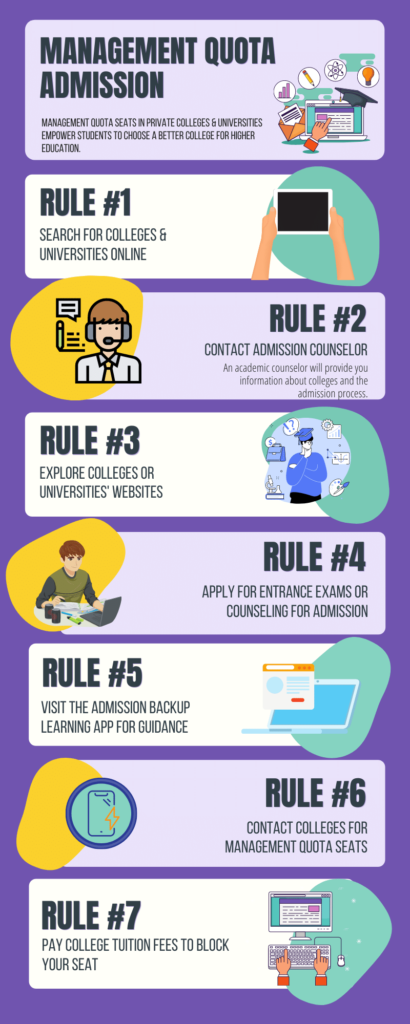 Students willing to join private colleges under management quota seats must qualify for the minimum eligibility criteria for admission.

# You must have qualified 10th, 12th, diploma, or degree courses.

# Appear in any of the national, state, or university level entrance exams.

Qualifying entrance exams with a good rank is not possible for all the participants.

Many students who score fewer marks cannot get admission to their dream colleges & universities via merit.

Such students have to take a year gap for the test preparation or consult with an admission counselor for management quota admission.

Educational institutions in tier-1 & tier-2 cities of India attracts students across the country for higher education.

Due to better placement opportunities, college infrastructure, & multilingual students community, top colleges get many applications.

However, the selection of all participants is not possible due to the limited amount of seats.

College administration often reserves seats for students with poor academic performance to continue their higher education.

These seats are popularly known as management quota seats or NRI/PIO quota seats.

Most foreign national, NRI & PIO students often join colleges & universities in India under reserved seats.

There are various benefits of management quota seats such as:
Arranging funds for the infrastructure developments
Providing state-of-the-art academic facilities
Job & Placements opportunities
Admission to desired colleges & courses
Affordable tuition fee
Admission Procedure for Engineering, Medical, MBA in Top Colleges or University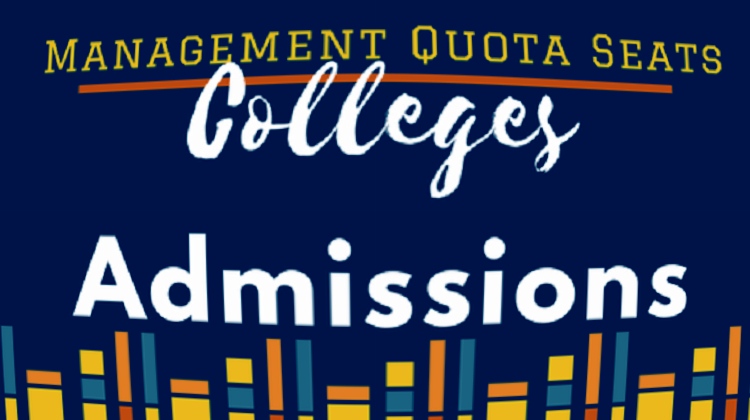 Admissions are provided by colleges in return for donation or capitation money depending on the reputation of the colleges.
Many students are extremely talented but are unable to score good marks in any entrance exams.
Parents also don't have any choice, they are ready to pay an extra amount of money to private colleges to get their wards admitted in Top Colleges.
Private colleges are established and infrastructure is built with the donation money which we contribute to direct admission also goes to building developments funds.
Thus with the help of admissions without qualifying any entrance exams in private colleges both students and colleges are benefited.
Students get to study in some of the top private colleges in India as well as colleges get surplus money through to run the college administration.
Such Admissions are available in both undergraduates and postgraduates courses.
Study With Management Quota In Top Colleges
Get a direct seat in top colleges, admission in very demanding courses like medical, engineering, MBA, law, pharmacy is possible easily without any entrance exams.
It is very easy to join private colleges without any entrance exams as it allows students to choose any courses depending on interests.
It is for students who are unable to get admission through normal or merit quota to get secure admission in some of the top colleges in the following ways:
Admission to Top Engineering Colleges Without Donation
Admission In Medical Colleges through Neet Entrance Exams
Admission in Best MBA Colleges Without Entrance Exams
Direct seats help in the popularization of Private colleges as it allows students to study depending on merit or donation.
Thus attracting many students every year for admission in various courses.
For More information about the admission procedure in private colleges consult admission consultancies.
Are Direct Admissions illegal?
Direct admissions are 100 % legal and many students have opted for Management seats to build their dream careers in the past.
Though it quite costly and it reduces the opportunity for students in entrance exams. Still, this is allowed in India as private colleges need funds to run the administration and colleges.
Colleges management have decided to reserve some of the seats in colleges for students looking for backdoor admission without entrance tests.
It is for students who are ready to pay the donation in favor of admission into prestigious colleges.
As the number of seats in colleges in limited under management quota due to which it is very costly in some of the colleges.
If you are interested to know more about admission in Private Colleges Sign Up for the Newsletter.
Eligibility For Direct Admission
The number of seats under NRI/Management/PIO Quota is around 25% of the total seats in private colleges.
Admission in Private Engineering Colleges: Private Universities have the maximum amount of Management seats to accumulate all of the engineering aspirants.
Also, many colleges offer admission in engineering colleges without donation on basis of class 12th marks.
Reputed colleges may only charge a donation for admission otherwise most of the colleges welcome engineering aspirants to join colleges on 12th results without any donation.
Admission In Medical College: Private Medical and Deemed Universities have reserved few seats for Neet eligible students direct admission as they cannot run private medical colleges in normal fees and without Donation.
Medical aspirants who passed neet entrance exams are eligible for admission in medical courses in India.
Medical courses under Neet are as follows:
MBBS and PG Medical Admissions
BDS and MDS Admissions
Reserved Quota In MBA Colleges: MBA Colleges is for those students who want to pursue a master degree in the field of business administration without any entrance exams.
For Admission in MBA without any entrance such as CAT, MAT, XAT, CMAT, GMAT is possible to join in private colleges.
Admissions Procedure
Know about colleges that are allowing admission on the basis of 12th marks or graduate degree.
Choose the best colleges depending on your budget for the study.
Approach reputed admission consultancies that provide admission to private colleges.
Make arrangements for colleges fees, know about the mode of payments for donation fees.
Advance book your seats by paying a sum of money as soon as booking begins in private colleges.