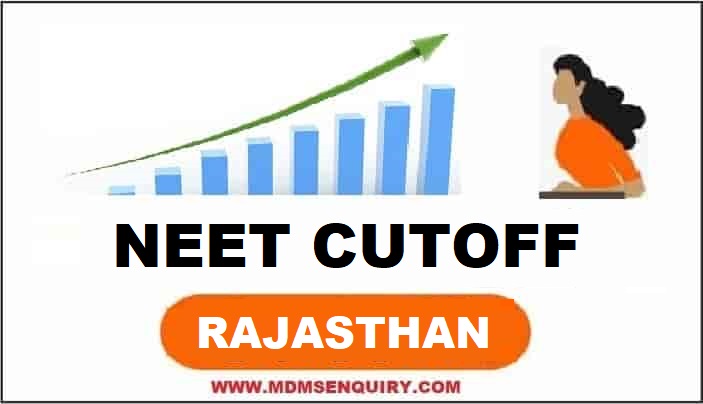 Rajasthan NEET 2023 Cutoff (Out): Office of the Chairman, NEET UG Medical and Dental Admission/ Counselling board will be releasing the cutoff of NEET 2023 Rajasthan board will release the cutoff of NEET Rajasthan. NEET 2023 cutoff Rajasthan will be released by the state authority for 85% State Quota seats, whereas the cutoff for 15% All India Quota seats (AIQ) can be going through by the Medical Counselling Committee (MCC).
The Candidate's last rank and equivalent for the admission to MBBS and BDS seats for Rajasthan MBBS/BDS admission are included in Rajasthan NEET Cut off 2023. The Cutoff Procedure is going through with the Directorate of Medical and Research.
Rajasthan NEET 2023 Brief Details
Before discussing the complete details of about Rajasthan NEET 2023 Counselling Procedure, let's briefly describe NEET 2023.
| | |
| --- | --- |
| Features | Specifications |
| Name of Examination | National Eligibility cum Entrance Test (UG) or NEET-UG |
| Conducted by | National Testing Agency (NTA) |
| NEET 2023 Exam Date | 7th May 2023 |
| NEET 2023 Result | 13th June 2023 |
| MCC AIQ NEET 2023 Counselling Starting Date | 20th July 2023 |
| Rajasthan NEET 2023 Counselling Starting Date | 22 July 2023 (Started) |
| Rajasthan NEET Counselling Conducting Authority | Medical Education, Government of Rajasthan |
| No. of Government MBBS Seats in Rajasthan | 3425 |
| No. of Private Seats in Rajasthan | 1650 |
| No. of Government BDS Seats in Rajasthan | 50 |
| No. of Private BDS Seats in Rajasthan | 1500 |
NEET 2023 Cutoff Important Instructions
The Admission Seekers applying for NEET are advised to check these necessary Instruction Related to NEET 2023 Cut off.
The NEET 2023 Cutoff will be based on various parameters like numbers of appearing candidates, total numbers of seats, the difficulty level of the examination, and last year admission record.
The Cutoff marks will be announced to only those candidates who will qualify for the NEET 2023 examination.
The Admission Seekers who will secure the highest mark will get the top rank, whereas the candidates with low marks will be allotted the lowest rank.
The Selection Board of NTA (National Testing Agency) will not announce the Minimum Cutoff Marks for a specified Branch or College.
The test-taking Agency will announce the opening/first rank and closing/last rank for different Medical Colleges.
The closing/last rank for a particular college will be based on the total number of seats in a college with the total number of candidates who appeared in NEET 2023 Counselling.
Admission Seekers are advised to fill their preferences in counselling according to their merit in the entrance examination.
NEET UG Cutoff 2023 (Announced)
| | | | |
| --- | --- | --- | --- |
| Category | NEET 2023 cutoff | NEET 2023 cutoff score | Number of Qualifying Candidates |
| UR/EWS | 50th Percentile | 720-137 | 1014372 |
| OBC | 40th Percentile | 136-107 | 88592 |
| SC | 40th Percentile | 136-107 | 29918 |
| ST | 40th Percentile | 136-107 | 12437 |
| UR / EWS & PH | 45th Percentile | 136-121 | 405 |
| OBC & PH | 40th Percentile | 120-107 | 179 |
| SC & PH | 40th Percentile | 120-107 | 50 |
| ST & PH | 40th Percentile | 120-108 | 23 |
NEET UG Cutoff 2022
Category
NEET 2022 cutoff
NEET cut-off marks
Number of Candidates
UR/EWS
50th percentile
715-117
881402
OBC
40th Percentile
116-93
74458
SC
40th Percentile
116-93
26087
ST
40th Percentile
116-93
10565
UR / EWS &
PH
45th Percentile
116-105
328
OBC & PH
40th Percentile
104-93
160
SC & PH
40th Percentile
104-93
56
ST & PH
40th Percentile
104-93
13
NEET Cutoff 2022 for MBBS Colleges in Rajasthan Under 15% All India Quota
| | | | | |
| --- | --- | --- | --- | --- |
| Medical Colleges | Gen. Rank | GN PWD Rank | SC Rank | ST Rank |
| RUHS College of Medical Science, Jaipur | 2200 – 2300 | 28000 – 29000 | 28000 – 29000 | 23500 – 24500 |
| S.M.S. Medical College, Jaipur | 700 – 800 | 159000 – 160500 | 14400 – 15400 | 11500 – 12500 |
| Sardar Patel Medical, College, Bikaner | 2800 – 3000 | 165500 – 167500 | 25700 – 26700 | 32300 – 33300 |
| R.N.T. Medical College, Udaipur | 4000 – 4300 | — | 37500 – 38500 | 28400 – 29400 |
| Government Medical College, Kota | 5500 – 5700 | 164000 – 165500 | 41800 – 42800 | 40000 – 41000 |
| Jawaharlal Nehru Medical College, Ajmer | 4700 – 4900 | 191500 – 193000 | 37500 – 38500 | 41000 – 42500 |
| Dr S N Medical College, Jodhpur | 3700 – 3900 | 89000 – 90000 | 36500 – 37500 | 42000 – 43000 |
| Jhalawar Medical College, Jhalawar | 6100 – 6300 | 260000 – 262000 | 43000 – 44000 | 45500 – 46500 |
NEET Cutoff 2022 for Government MBBS Colleges in Rajasthan Under 85% State Quota
| | | | | | | | | | | |
| --- | --- | --- | --- | --- | --- | --- | --- | --- | --- | --- |
| Medical Colleges | Gen. score | Gen. rank | SC score | SC rank | ST score | ST rank | OBC non-creamy score | OBC non-creamy rank | EWS score | EWS rank |
| American International Institute of Medical Sciences, Udaipur | 335 – 360 | 190500 – 192500 | 110 – 130 | 785000 – 787000 | 150 – 170 | 598500 – 600500 | 225 – 250 | 377000 – 379000 | — | — |
| Ananta Institute of Medical Sciences and Research Center | 280 – 310 | 262500 – 264500 | 220 – 240 | 391500 – 393000 | 180 – 205 | 485500 – 587000 | 215 – 240 | 403500 – 405000 | — | — |
| Dr SN Medical College, Jodhpur | 610 – 630 | 4000 – 4500 | 510 – 530 | 38000 – 39500 | 500 – 525 | 44000 – 45000 | — | 4800 – | — | — |
| Geetanjali Medical College | 235 – 360 | 360500 – 362000 | 110 – 130 | 784500 – 786000 | 100 – 130 | 802000 – 804000 | — | —- | — | — |
| Government Medical College, Barmer | 570 – 590 | 13000 – 13500 | 450 – 470 | 74500 – 76000 | 430 – 460 | 89000 – 90500 | 100 – 130 | 817500 – 819000 | 580 – 605 | 9000 – 9500 |
| Government Medical College, Bharatpur | 570 – 600 | 13000 – 13500 | 455 – 475 | 71500 – 73000 | 450 – 470 | 75000 – 76500 | 570 – 600 | 12000 – 13000 | 580 – 610 | 9800 – 10300 |
| Government Medical College, Bhilwara | 580 – 610 | 103000 – 105000 | 455 – 475 | 72500 – 74000 | 435 – 460 | 87500 – 89500 | 570 – 600 | 12000 – 13000 | 585 – 610 | 9000 – 9500 |
| Government Medical College, Churu | 570 – 600 | 13000 – 13500 | 455 – 475 | 73500 – 75000 | 435 – 460 | 85500 – 87000 | 575 – 600 | 12000 – 12500 | 585 – 610 | 8500 – 9000 |
| Government Medical College, Dungarpur | 570 – 600 | 13000 – 13500 | 455 – 475 | 74000 – 75500 | 430 – 460 | 88500 – 90000 | 570 – 600 | 12500 – 13000 | 580 – 610 | 10000 – 10500 |
| Government Medical College, Kota | 590 – 615 | 8000 – 8500 | 490 – 510 | 50500 – 52000 | 480 – 510 | 55000 – 56500 | 595 – 615 | 6500 – 7500 | 590 – 620 | 7000 – 7500 |
| Government Medical College, Pali | 585 – 610 | 9500 – 10000 | 450 – 475 | 73500 – 75000 | 435 – 460 | 87000 – 88500 | 580 – 600 | 10000 – 11000 | 580 – 620 | 9000 – 9400 |
| Jaipur National University Institute for Medical Science and Research Center, Jaipur | 100 – 130 | 797500 – 799500 | — | — | 100 – 130 | 757500 – 759000 | 105 – 135 | 775500 – 777500 | — | — |
| Jawaharlal Nehru Medical College, Ajmer | 590 – 620 | 7000 – 7500 | 500 – 530 | 41500 – 43000 | 490 – 515 | 48500 – 50000 | 600 – 625 | 5500 – 6000 | 595 – 620 | 6000 – 6500 |
| Jhalawar Hospital and Medical College, Jhalawar | 585 – 610 | 9000 – 9500 | 480 – 505 | 55500 – 57500 | 455 – 475 | 71500 – 72500 | 590 – 620 | 7000 – 7500 | 590 – 620 | 7500 – 8000 |
| Mahatma Gandhi Medical College And Hospital, Jaipur | 460 – 485 | 68000 – 70000 | 185 – 205 | 483000 – 485000 | 240 – 265 | 344000 – 346000 | 365 – 385 | 151000 – 153000 | — | — |
| National Institute of Medical Science and Research, Jaipur | 130 – 155 | 671500 – 673000 | 130 – 150 | 681500 – 683500 | 110 – 140 | 758000 – 760000 | 100 – 130 | 831500 – 833500 | — | — |
| Pacific Institute of Medical Science, Umarda, Udaipur | 125 – 150 | 703000 – 705000 | 110 – 135 | 785500 – 787500 | 100 – 130 | 570500 – 572500 | 100 – 130 | 837500 – 839000 | — | — |
| RNT Medical College, Udaipur | 600 – 620 | 6300 – 6900 | 500 – 530 | 41000 – 42000 | 495 – 520 | 46500 – 48000 | 600 – 630 | 5300 – 5900 | 600 – 630 | 5000 – 5500 |
| RUHS College of Medical Sciences, Jaipur | 610 – 630 | 3800 – 4300 | 525 – 550 | 30000 – 31000 | 515 – 540 | 35500 – 37000 | 620 – 645 | 2500 – 3000 | 615 – 640 | 3000 – 3500 |
| Sardar Patel Medical college, Bikaner | 610 – 635 | 3500 – 4000 | 525 – 550 | 31000 – 32000 | 500 – 530 | 41300 – 42800 | 605 – 630 | 4300 – 4800 | — | — |
| SMS Medical College, Jaipur | 630 – 655 | 1200 – 1800 | 545 – 570 | 21000 – 22000 | 550 – 570 | 20000 – 20800 | 630 – 650 | 1500 – 2000 | — | — |
NEET Cutoff 2022 for Private MBBS Colleges in Rajasthan Under 85% State Quota
| | | | | | | | | | | |
| --- | --- | --- | --- | --- | --- | --- | --- | --- | --- | --- |
| Medical Colleges | Gen. score | Gen. rank | SC score | SC rank | ST score | ST rank | OBC non-creamy score | OBC non-creamy rank | EWS score | EWS rank |
| American International Institute of Medical Sciences, Udaipur | 130 – 155 | 667000 – 670000 | — | — | — | — | — | — | — | — |
| Ananta Institute of Medical Sciences and Research Center | 130 – 160 | 659000 – 661000 | — | — | — | — | 115 – 140 | 735500 – 737500 | — | — |
| Government Medical College, Barmer | 550 – 575 | 20000- 21500 | 400 – 430 | 112500 – 114500 | 400 – 425 | 112000 – 114000 | 555 – 575 | 18000 – 18500 | 550 – 575 | 20500 – 21000 |
| Government Medical College, Bharatpur | 545 – 570 | 21000 – 22500 | 410 – 435 | 107500 – 109500 | 415 – 440 | 102000 – 104000 | 555 – 580 | 17000 – 17500 | 545 – 570 | 21000- 22000 |
| Government Medical College, Bhilwara | 565 – 585 | 18000 – 19000 | 410 – 435 | 111500 – 114000 | 420 – 445 | 101500 – 104000 | 555 – 580 | 17200 – 17800 | 560 – 585 | 18400 – 18900 |
| Government Medical College, Churu | 550 – 575 | 20500 – 22000 | 410 – 430 | 108500 – 110500 | 415 – 440 | 104000 – 106500 | 560 – 580 | 16500 – 17000 | 545 – 570 | 21000 – 22000 |
| Government Medical College, Dungarpur | 545 – 570 | 21000 – 22500 | 395 – | 124000 – 126000 | 415 – 440 | 107000 – 109500 | 555 – 585 | 18000 – 18500 | 540 – 565 | 24000- 25000 |
| Government Medical College, Pali | 555 – 580 | 18000 – 19500 | 400 – 425 | 116500 – 118500 | 415 – 440 | 105500 – 107500 | 560 – 585 | 16500 – 17000 | 555 – 575 | 18000 – 19000 |
| Jaipur National University Institute for Medical Science and Research Center, Jaipur | 100 – 130 | 797500 – 799000 | — | —- | — | — | 110 – 130 | 768500 – 771000 | — | — |
| Jhalawar Hospital and Medical College, Jhalawar | 560 – 590 | 15500 – 17000 | 435 – 460 | 88000 – 90000 | 425 – 450 | 46500 – 48000 | 570 – 595 | 13000 – 14500 | 560 – 585 | 15500 – 17000 |
| National Institute of Medical Science and Research, Jaipur | 150 – 170 | 592000 – 593500 | — | — | — | — | 100 – 130 | 824000 – 826500 | — | — |
| Pacific Institute of Medical Science, Umarda, Udaipur | 135 – 160 | 655500 – 65700 | — | — | — | — | 115 – 135 | 730000 – 731500 | — | — |
| RUHS College of Medical Sciences, Jaipur | 565 – 585 | 13500 – 14500 | 445 – 470 | 78500 – 81000 | 430 – 460 | 51500 – 53000 | 570 – 585 | 12800 – 13300 | 570 – 600 | 12800 – 13300 |
NEET Cutoff 2022 for Government BDS Colleges in Rajasthan Under 85% State Quota
Medical Colleges
Gen.
score
Gen.
rank
SC
score
SC
rank
ST
score
ST
rank
OBC non-creamy
score
OBC non-creamy
rank
Darshan Dental College and Hospital, Udaipur
380 – 410
136500 – 139000
250 – 275
325500 – 328000
130 – 150
673500 – 676000
115 – 140
747500 – 750000
Daswani Dental College and Research Center, Kota
130 – 160
664500 – 666500
100 – 130
824500 – 826500
100 – 130
787500 – 790500
100 – 130
800500 – 803000
Eklavya Dental And Hospital, Jaipur
190 – 220
473000 – 475500
100 – 125
833500 – 835500
135 – 165
646500 – 649000
100 – 130
801500 – 804000
Geetanjali Dental and Research Institute, Udaipur
155 – 175
571500 – 573500
100 – 125
826500 – 829000
165 – 185
536500 – 539000
100 – 125
821500 – 824000
RUHS College of Dental Science, Jaipur
550 – 575
18500 – 20500
435 – 460
86500 – 88500
430 – 460
93500 – 95500
555 – 580
18000 – 19000
Jaipur Dental College, Jaipur
315 – 340
218500 – 220500
105 – 130
783500 – 785500
130 – 150
672000 – 674000
100 – 125
806500 – 809000
Maharaj Ganga Singh Dental College and Research Center, Sriganganager
115 – 135
745500 – 748000
120 – 145
733500 – 736000
115 – 135
740500 – 743000
115 – 135
760500 – 763000
Mahatma Gandhi Dental College and Hospital, Jaipur
415 – 440
106500 – 108600
160 – 180
572500 – 574500
285 – 310
267500 – 269500
140 – 175
630500 – 633000
NIMS Dental College, Jaipur
315 – 340
223000 – 250000
120 – 140
733500 – 735500
115 – 135
736500 – 738500
120 – 145
722500 – 725000
Pacific Dental College and Research Center, Udaipur
140 – 165
637500 – 640000
—
—
320 – 345
211500 – 213500
100 – 125
836500 – 839000
Pacific Dental College Airport Road Debari, Udaipur
130 – 155
685500 – 687500
105 – 130
787000 – 789000
—
—
125 – 150
708500 – 711000
R.R. Dental College and Hospital, Udaipur
430 – 155
93500 – 95000
145 – 170
620500 – 622500
135 – 160
650000 – 652500
170 – 200
526500 – 529000
Rajasthan Dental College and hospital, Jaipur
400 – 425
118500 – 120000
100 – 125
833500 – 835500
160 – 185
559000 – 562000
115 – 140
752500 – 755000
Surendra Dental College and Research Center, Sriganganagar
130 – 155
692500 – 64500
165 – 190
538500 – 540500
115 – 135
762500 – 765000
115 – 140
755500 – 758000
Vyas Dental College And hospital, Jodhpur
145 – 170
615500 – 617500
105 – 135
779500 – 782000
115 – 140
740500 – 743000
115 – 135
752500 – 755000
NEET Cutoff 2022 for Private BDS Colleges in Rajasthan Under 85% State Quota
Medical Colleges
Gen.
score
Gen.
rank
SC
score
SC
rank
ST
score
ST
rank
OBC non-creamy
score
OBC non-creamy
rank
Darshan Dental College and Hospital, Udaipur
190 – 210
460000 – 462500
115 – 135
742500 – 744500
260 – 290
313000 – 315000
140 – 165
632000 – 634000
Daswani Dental College and Research Center, Kota
120 – 145
691500 – 693500
—
—
—
—
—
—
Eklavya Dental And Hospital, Jaipur
125 – 150
170000 – 173000
—
—
—
—
100 – 125
806500 – 808500
Jaipur Dental College, Jaipur
230 – 250
368500 – 370500
215 – 240
404500 – 406500
—
—
110 – 135
777000 – 779000
Maharaj Ganga Singh Dental College and Research Center, Sriganganager
105 – 130
793500 – 796000
—
—
—
—
—
—
NIMS Dental College, Jaipur
130 – 150
680500 – 682500
—
—
365 – 390
156000 – 158000
175 – 195
513000 – 515000
Pacific Dental College and Research Center, Udaipur
135 – 155
647500 – 649500
—
—
—
—
—
—
Pacific Dental College Airport Road Debari, Udaipur
135 – 160
667500 – 669500
—
—
—
—
—
—
R.R. Dental College and Hospital, Udaipur
185 – 210
486500 – 488000
255 – 275
322000 – 325000
385 – 410
135500 – 13800
160 – 180
546500 – 548500
Rajasthan Dental College and hospital, Jaipur
285 – 310
263000 – 265500
200 – 230
432500 – 435000
140 – 165
630000 – 632000
110 – 130
768500 – 775000
Surendra Dental College and Research Center, Sriganganagar
110 – 130
568500 – 570500
—
—
—
—
—
—
Vyas Dental College And hospital, Jodhpur
160 – 185
570000 – 572000
—
—
—
—
—
—
NEET Cut off 2021
| | | | |
| --- | --- | --- | --- |
| Category | Qualifying Criteria | Cut off marks 2021 | Cut off marks 2020 |
| UR | 50th Percentile | 720-138 | 720-147 |
| OBC | 40th Percentile | 137-108 | 146-113 |
| SC | 40th Percentile | 137-108 | 146-113 |
| ST | 40th Percentile | 137-108 | 146-113 |
| UR / EWS & PH | 45th Percentile | 137-122 | 146-129 |
| OBC & PH | 40th Percentile | 121-108 | 128-113 |
| SC & PH | 40th Percentile | 121-108 | 128-113 |
| ST & PH | 40th Percentile | 121-108 | 128-113 |
NEET UG Cut off 2020
Candidates can check the NEET cutoff 2020, which is released by NTA on the 16th of October:
| | | |
| --- | --- | --- |
| Category | Minimum Qualifying Percentile | Cut-off Marks |
| Unreserved (UR) | 50th Percentile | 720-147 |
| Unreserved/EWS-PH | 45th Percentile | 146-129 |
| Scheduled Caste (SC) | 40th Percentile | 146-113 |
| Scheduled Tribe (ST) | 40th Percentile | 146-113 |
| Other Backward Classes (OBC) | 40th Percentile | 146-113 |
| SC-PH | 40th Percentile | 128-113 |
| ST-PH | 40th Percentile | 128-113 |
| OBC-PH | 40th Percentile | 128-113 |
Rajasthan NEET 2020 cut off for 85% state quota seats (Gen/SC/ST)
Medical Colleges
College Name
Quota
Gen
Gen
SC
SC
ST
ST
—
Rank
Scores
Rank
Scores
Rank
Scores
American Int. Inst. of Med. Sc., Udaipur
Govt
183768
400-450
697677
142
603902
171
Mgt
568514
180-200
–
–
–
–
Ananta Institute of Med. Sc., Rajsamand
Govt
140855
420-460
487583
216
449151
233
Mgt
522611
201
–
–
668941
150
Geetanjali MC, Udaipur
Gen
368051
274
–
–
693617
143
Mgt
673612
149
–
–
–
–
Govt
7978
632
48779
550
57080
538
GMC, Bharatpur
Govt
8474
630
56465
539
60278
534
Mgt
18985
602
107075
476
113363
469
GMC, Bhilwara
Govt
8115
631
54737
542
59094
535
Mgt
17446
605
102514
481
117607
465
GMC, Barmer
Govt
20234
629
57686
537
63525
529
Mgt
9006
599
106880
476
143558
438
GMC, Churu
Govt
8583
630
56679
539
67798
524
Mgt
19473
601
114129
469
136119
446
GMC, Dungarpur
Govt
9032
628
57777
537
65028
527
Mgt
20533
599
119356
463
131605
450
GMC, Kota
Govt
7021
635
50586
548
56400
539
GMC, Pali
Govt
8029
632
55295
541
61909
532
Mgt
18575
603
109018
474
124645
457
JLN MC, Ajmer
Govt
5912
640
46055
554
53224
544
JMC, Jhalawar
Govt
7476
634
51791
546
55576
540
Mgt
15486
610
92741
493
105101
478
JNU Institute for Med. Sc. & RC, Jaipur
Govt
535967
196
–
–
759301
126
Mgt
627692
163
–
–
–
–
MG MC, Jaipur
Govt
81019
507
772164
123
322793
300
Mgt
340197
290
–
–
374316
271
NIMS, Jaipur
Govt
590335
176
133712
448
674655
331
Pacific Insti. of MS, Udaipur
Govt
670554
150
–
–
Pacific MC & Hospital, Udaipur
Govt
679585
147
484226
217
–
–
Mgt
672867
149
–
–
–
–
RNT MC, Udaipur
Govt
5519
641
44416
557
51011
547
RUHS CMS, Jaipur
Govt
2828
656
28498
583
30629
579
Mgt
8356
621
82042
506
85626
501
S.K. GMC, Sikar
Govt
18286
631
56486
539
63926
529
Mgt
1894
603
109034
474
114464
468
SMS MC, Jaipur
Govt
4618
663
22133
595
25556
589
SN MC, Jodhpur
Govt
4167
646
40944
562
46057
554
SP MC, Bikaner
Govt
3867
650
39321
565
42986
559
Rajasthan NEET 2020 (Expected) cutoff for 85% state quota seats (OBC/EWS)
College
Quota
OBC
OBC
EWS
EWS
—
—
Rank
Scores
Rank
Scores
American Int. Inst. of Med. Sc., Udaipur
Govt
394245
260
444335
235
Mgt
611408
169
–
–
Ananta Institute of Med. Sc., Rajsamand
Govt
301850
313
522605
201
Mgt
674300
149
–
–
Geetanjali MC, Udaipur
Gen
691763
144
488576
215
Mgt
727396
134
–
–
Govt
8162
631
9981
625
GMC, Bharatpur
Govt
8885
629
10700
623
Mgt
21710
596
20408
599
GMC, Bhilwara
Govt
8331
631
9776
626
Mgt
19549
601
19220
601
GMC, Barmer
Govt
9174
628
10814
622
Mgt
21811
596
23057
593
GMC, Churu
Govt
8816
629
10499
624
Mgt
21388
597
22225
595
GMC, Dungarpur
Govt
9325
627
10875
622
Mgt
22129
595
22949
594
GMC, Kota
Govt
7436
634
9034
628
GMC, Pali
Govt
8459
630
10030
625
Mgt
20114
600
22798
594
JLN MC, Ajmer
Govt
6762
636
8485
630
JMC, Jhalawar
Govt
7642
633
9265
627
Mgt
17441
605
16981
606
JNU Institute for Med. Sc. & RC, Jaipur
Govt
801408
116
–
–
Mgt
814449
114
–
–
MG MC, Jaipur
Govt
156851
426
179669
405
Mgt
640287
159
–
–
NIMS, Jaipur
Govt
796206
117
467816
225
Pacific Insti. of MS, Udaipur
Govt
667629
151
–
Pacific MC & Hospital, Udaipur
Govt
800532
116
640062
159
Mgt
–
–
–
–
RNT MC, Udaipur
Govt
6102
639
8185
631
RUHS CMS, Jaipur
Govt
3233
653
4059
649
Mgt
14351
613
16194
608
S.K. GMC, Sikar
Govt
8732
630
10707
623
Mgt
20850
598
23839
592
SMS MC, Jaipur
Govt
2572
657
3518
651
SN MC, Jodhpur
Govt
5274
643
7252
635
SP MC, Bikaner
Govt
4613
646
6833
636
Rajasthan Dental College Cutoff (Gen/EWS/OBC)
College
Quota
Gen
Gen
EWS
EWS
OBC
OBC
—
—
Rank
Score
Rank
Score
Rank
Score
Darshan Dental College, Udaipur
Govt
99066
485
388938
263
295644
317
Mgt
178402
406
–
–
238572
357
Daswani Dental College, Kota
Govt
441813
236
440107
237
801247
116
Mgt
577182
181
–
–
40604
562
Eklavya Dental College, Kotputli
Govt
634618
161
292776
319
809541
115
Geetanjali Dental College, Udaipur
Govt
324752
299
493729
213
724696
135
Mgt
521748
202
–
–
412305
251
Jaipur Dental College, Jaipur
Govt
141740
440
508020
207
608883
170
Mgt
282275
326
244553
353
–
–
Maharaja Gangasingh DC, Ganganagar
Govt
657290
154
–
–
758143
126
MG Dental College, Jaipur
Govt
141573
440
400171
257
778357
121
Mgmt
498646
211
–
–
563539
207
NIMS Dental College, Jaipur
Govt
230069
364
678180
148
798880
117
Mgt
519561
203
–
–
726295
135
BDS, Pacific Dental College & Hospital, Udaipur
Govt
682219
147
407891
253
455617
230
BDS, Pacific Dental College & RC, Udaipur
Govt
391177
262
–
–
358945
279
Rajasthan Dental College, Jaipur
Govt
225607
367
481366
219
715489
137
Mgt
549775
191
–
–
699922
141
RR Dental College, Udaipur
Govt
181568
404
614332
168
766742
124
Mgmt
628013
163
–
–
213171
377
RUHS College of Dental Sciences, Jaipur
Govt
14049
614
22548
595
22689
594
Surendra Dental College, Ganganagar
Govt
556347
188
455518
230
684726
146
Mgt
–
–
–
507589
207
Vyas Dental College, Jodhpur
Govt
443264
236
656241
154
598705
173
Mgt
598095
173
197632
390
642970
158
Rajasthan Dental College Cut off (Gen/EWS/OBC)
College
Quota
SC
SC
ST
ST
Rank
Score
Rank
Score
Darshan Dental College, Udaipur
Govt
382763
266
527821
199
Mgt
641941
159
255046
345
Daswani Dental College, Kota
Govt
804512
115
630568
162
Mgt
–
–
171585
412
Eklavya Dental College, Kotputli
Govt
701891
141
690285
144
Geetanjali Dental College, Udaipur
Govt
524377
201
672468
150
Mgt
–
–
–
–
Jaipur Dental College, Jaipur
Govt
800807
116
513508
205
Mgt
–
–
–
–
Maharaja Gangasingh DC, Ganganagar
Govt
708302
139
431477
241
MG Dental College, Jaipur
Govt
657908
154
541529
194
Mgt
–
–
–
–
NIMS Dental College, Jaipur
Govt
643740
158
752623
128
Mgt
–
–
–
–
BDS, Pacific Dental College & Hospital, Udaipur
Govt
751132
128
BDS, Pacific Dental College & RC, Udaipur
Govt
751228
128
–
–
Rajasthan Dental College, Jaipur
Govt
590363
176
595158
174
Mgt
–
–
–
–
RR Dental College, Udaipur
Govt
796259
117
292822
319
Mgt
722742
135
–
–
RUHS College of Dental Sciences, Jaipur
Govt
89722
496
109995
473
Surendra Dental College, Ganganagar
Govt
–
–
–
–
Mgt
–
–
–
–
Vyas Dental College, Jodhpur
Govt
714853
137
–
–
Mgt
–
–
245539
352