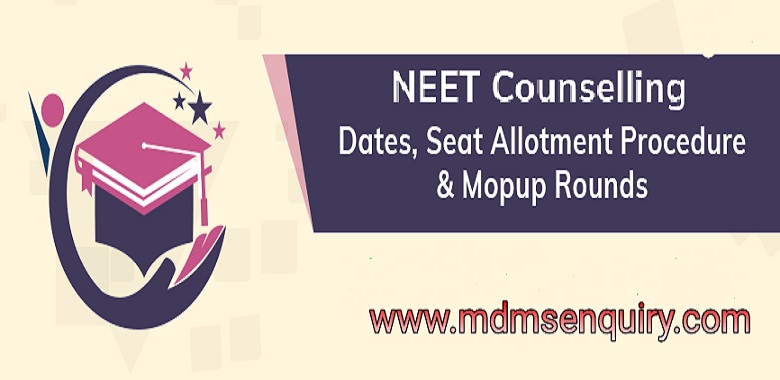 Do you wish to join the Top medical colleges of the country? Then you can apply for NEET 2022 Counselling and Seat Allotment after qualifying NEET 2022 Exam.
National Eligibility cum Entrance Test is a single medical entrance test for the candidates seeking admission in MBBS/ BDS courses offered by various medical colleges of the country.
NEET Counselling 2022 will be conducted by the Medical Counselling Committee. The counselling for NEET 2022 will be done to fill the 15% All India Quota Seats. The remaining 85% seats will be filled by NEET State Counselling 2022.
The candidates can check here the complete details about NEET 2022 Counselling and Seat Allotment. Let's have a look.
NEET is the only entrance examination for admission to 91,415 MBBS, 26,949 BDS, 52,720 AYUSH, and 525 BVSc & AH seats, respectively, in 542 and 313 medical and dental colleges. Candidates are advised to read the article on NEET 2022 counselling to know crucial details such as dates, process, fees and more.
NEET UG 2022 Important Link
NEET UG 2022 Brief Details
Name of Counselling
NEET UG Counselling 2022
Conducted by
MCC (Medical Counselling Council)
Session
2022-23
Conducting Bodies
AIQ- By Directorate General of Health Sciences (DGHS) for the National Medical Council
Courses offered
MBBS/BDS
Seats
AIQ – 15% of Govt Seats,
100% of Deemed and Central University seats, ESIC, AFMC, AIIMS and JIPMER seats
State Quota – 85% of Govt seats,
100% of private seats of the state
Number of Colleges Participating
300+
Total MBBS Seats under MCC
80,000+
Total BDS Seats
27,000+
Start Date of Counselling Registration
1st Week Of September 2022
Official website
mcc-nic-in
MCC NEET Counselling 2022 Important Dates Here!
NEET 2022 Counselling dates for 15% All India Quota is announced by the Medical Counselling Committee (MCC) after the declaration of NEET Results and Cut Off Marks. The counselling for NEET 2022 will be held through online mode. Check out the NEET Counselling Dates 2022 in the below table.
Events
Round 1
Round 2
Mop-up round
Registration/Payment
11/10/2022 to 17/10/2022 (up to11:00
AM) only as per Server Time.
02/11/2022 to 07/11/2022 up to 11:00 A.M (as per Server time)
23/11/2022 to 28/11/2022 (11:00 AM as
per Server Time)
Choice Filling & locking
14/10/2022 to 18/10/2022 (up to
11:55 PM) as per Server Time
03/11/2022 to 08/11/2022 till 11:55
PM (as per server time)
24/11/2022, to 29/11/2022 (till 11:55
PM) as per Server Time
Verification of Internal Candidates
by the respective Universities/ Institutes
17/10/2022 to 18/10/2022
07/11/2022 to 08/11/2022
28/11/2022 to 29/11/2022
Processing of seat allotment
19/10/2022 to 20/10/2022
09/11/2022 to 10/11/2022
30/11/2022 to 01/12/2022
Result
21/10/2022
11/11/2022
03/12/2022
Reporting
22/10/2022 to 28/10/2022
12/11 2022 to 18/11/2022
04/12/2022 to 10/12/2022
Reporting to the institute allotted
To be Announced
–
–
Online stary vacancy Round for AIQ/ Central Universities
| | |
| --- | --- |
| Processing of Seat Allotment | 12/12/2022 to 13/12/2022 |
| Result | 14/12/2022 |
| Reporting | 15/12/2022 to 20/12/2022 |
NEET Counselling Procedure 2022- Complete Steps to get Admission in Medical College!
Below, we have mentioned the complete step by step procedure to apply for NEET 2022 Counselling and Seat Allotment Process. Read further to know about these steps.
1. NEET Counselling Registration 2022
To apply for NEET Counselling Registration 2022, the candidates are required to visit the MCC Official website after successfully qualifying in the Exam and NEET Merit List. Below are the steps to apply for the Registration for Counselling 2022.
Visit the link www.mcc.nic.in for details of counselling and then click on 'New Registration Link'.
Enter the required details: Roll Number, Application Number, Candidate's Name, Date of Birth etc.
Choose a password and make sure you remember it, as it will be required during the NEET Seat Allotment 2022.
Click on Submit button.
Now, the candidates will be required to enter the One Time Password (OTP) to complete NEET 2022 Counselling Process. The OTP will be sent to the registered mobile number during NEET 2022 Online Application.
After checking all the details, finally, click on the 'Confirm Registration' button.
2. Choice Filling and Locking
In this step, the candidates are required to fill the choices of courses and colleges according to their preference. For this, the candidates need to follow the below-mentioned steps.
After NEET 2022 Counselling Registration, candidates need to log in using their Login ID and Password.
After logging in, candidates can submit their choices, modify or delete them, and change their order as required during the Registration and Choice Filling period.
Filled choices can also be swapped by interchanging positions.
After locking choices, no more submission will be possible.
Candidates are advised to take a printout of locked choices for future use.
3. NEET Mock Counselling 2022
There is also an option of NEET Mock Counselling for the candidates to get an idea of the seats they will be allotted based on their choices and rank.
Mock Counselling NEET 2022 helps candidates to refine their selection of choices and candidates can modify their choices as the placement during that period is not binding.
4. Reporting to the Allotted College
To confirm the seats, the candidates will have to report to the allotted college and will have to pay the initial fee requires to get admission. Then, they should complete the admission formalities.
In case, the candidate will reach the allotted college after the given time limit, then his / her seat will be automatically allotted to the next candidate.
5. NEET Second Round Counselling
In case, any candidate won't get satisfied with the allotted seats, can go for the second round of NEET Counselling. Candidates who will be allotted in the second round of NEET counselling from 15% All India Quota are not allowed to leave the seat vacant.
The NEET Second Round Counselling Result can be checked by the candidates either individually by entering their roll numbers, or by cross-checking their All India Rank status from an open, detailed list.
The candidates falling under the given categories are eligible for NEET 2022 Second Counselling.
Group 1: Candidates who have registered themselves but did not get allotted any seats in the first round.
Group 2: Registered candidates from the reserved category, whose admission got cancelled due to change of category i.e., he/she was shown as unreserved category candidates in their documents.
Or if the candidate's physically handicapped status went from yes to no or from PH-1 to PH-2. These candidates will be considered for seat allotment based on their changed category.
Group 3: Candidates who chose to participate in the second round of counselling while reporting at the allotted university after the first round of counselling.
The following candidates will not be eligible for the NEET Second Round Counselling.
The candidates who do not attend NEET First Round Counselling will not be allowed for the second round as well.
The candidates who reported for admission in the allotted college after the first round but withdrew, will not be eligible.
If the candidate fails to submit his/her fresh choices in NEET Second Round Counselling, then he/ she will be disqualified.
Documents Required for NEET Counselling 2022 Process
Below is the list of documents required at the time of NEET Counselling 2022. Candidates will have to carry their original documents along with the attested photocopies during the Counselling process.
10th and 12th Class Mark Sheets.
10th and 12th Class Passing Certificate.
Birth Certificate.
NEET Rank Letter
Eight Passport size photographs are similar to that affixed on the online application form.
Caste Certificate (If applicable).
NEET 2022 Admit Card
PWD Certificate (If applicable).
Counselling Letter issued by the NEET Authority.
What is the Mop- Up Round Counselling for NEET UG?
What does the mop-up round mean in the admission process through the National Eligibility cum Entrance Test?
Most of the students have this query in their minds. Mop- Up Round NEET 2022 is the counselling process provided by the respective states, against the reverted seats from All India 15% Quota.
It can also be called the second last step for NEET Admission. The seats that remain vacant after 1st and 2nd round counselling are filled by the Mop-up round for NEET UG.
The candidates who did not get the seat allotment in the NEET second round counselling are eligible to participate in this round.
What is All India Quota Rank in NEET?
NEET State Counselling 2022
For the remaining 85% state quota seats, NEET Counselling for Private Colleges is done by the respective counselling committee for the particular state. The NEET State Counselling is done based on the rank in the state merit list.
NEET State Counselling 2022-Get the List of the Participating States!
The candidates who want to get admission to the State Medical Colleges on the basis of NEET 2022 scores must check the list of states participating in NEET UG/PG Counselling 2022.
The NEET Counselling participating states are mentioned in the table below.
NEET Counselling 2022 Refund Process
MCC starts the refund process for those candidates who do not want to study in the colleges after the second counselling. Medical Counselling Committee will start the refund process soon. The aspirants would receive the refund on the same account through which registration fees was paid.
If candidates face any problem regarding the refund, they can contact at 1800-102-7637 (toll-free no.) or drop a mail at [email protected].
Note: Issue regarding the refund will be resolved only on the above-mentioned no. and if candidates contact any other number, the grievance shall not be entertained.
NEET 2022 FAQs (Most Asked Questions)
During NEET UG Counselling 2022, the candidates have gone through various dilemmas like how to apply for counselling, how to fill fresh choices and much more. There were a lot of queries related to the NEET 2022 Counselling amongst the candidates. The queries related to getting admission to desired medical colleges were common. So, below, we have listed some frequently asked questions by the candidates which can also be helpful during the counselling of UG NEET 2022. Let's have a look.
Question 1. Where should I report for counselling registration and choice filling?
Answer: The NEET Counselling Registration and choice filling can be done from the place of convenience (including home) through the internet. There is no need to report to any counselling center.
Question 2. Can I fill in more than one college choice in the choice filling the form?
Answer: Yes, you can fill in many choices, however, the choices should be in the order of candidates 'preference.
Question 3. Can I edit my choices during Choices Filling and Locking during round 1?
Answer: Yes, you can edit, add or delete your filled choices during the period before locking your final choices. But once you lock the choices, then you will not be able to modify them.
Question 4: What are the Quotas and seats on which admission will be offered through NEET?
Answer: NEET offers admissions through the following seats/ quotas.
All India Quotas
State Government Quota Seats
State/ Private/ Management/ NRI Quota seats in all Private Medical/ Dental Colleges or any deemed university.
Central pool quota seats.
Question 5: I got a seat in MBBS Course, how much time I will get to join the allotted college?
Answer: You have to report to the allotted college within a given time period which is mentioned in the counselling schedule. You are advised to join the allotted college as early as possible.
Question 6: How and when do I register for the Mop-Up Round NEET 2022 in non-domicile states?
Answer: There is no separate way to apply for this NEET Mop-up round in non -domicile state. If you want to apply, there are 2 options-
If you have a good rank, then go for All India Quota or else go for deemed university.
The complete information related to NEET Counselling 2022 is provided in this blog. If we have missed anything, tell us in the comment section provided below.
Was the above information helpful? Please share your views and provide us with valuable feedback. We love to hear from our readers.
Also, you can #AskEduenquiry your queries regarding the information shared. We will surely help you out.
Thank you!