Engineering Entrance Exams are compulsory for students looking for admission in government engineering colleges.
Since the seats are limited, aspirants have to qualify JEE Mains and JEE Advanced entrance test to get a seat in IIT's and NIT.
These entrance exams are conducted every year for admission in various engineering courses.
List of Engineering Entrance Exams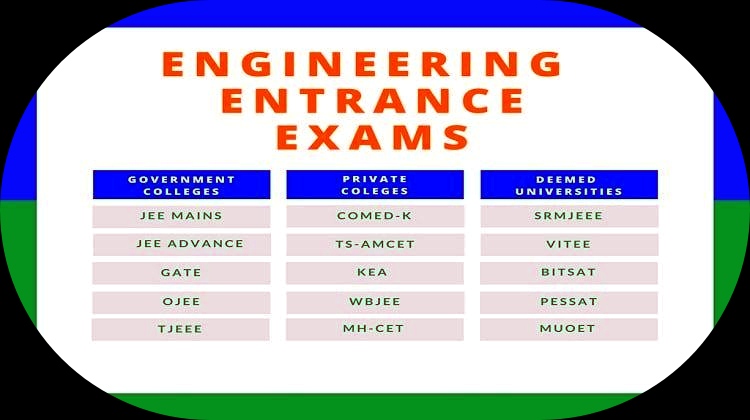 More than ten lakhs engineering aspirants apply for JEE Mains exams for admission to few government engineering colleges in India.
However, Only a few students are able to get admission through the entrance test.
Also, Private Colleges and Deemed Universities conduct their own entrance exams for admission in B.Tech/B.E and M.Tech.
Important Engineering Entrance Exams
Entrance Exams for B.Tech/B.E Admission:
ComedK Entrance Exam
[BITSAT] Bits Pilani Online Test
[MUOET] Manipal University Online Entrance test
Entrance Exams for M.Tech Admission:
GATE
Karnataka PG-CET
SRMGEEE- PG
TANCET
VITMEE
These are some of the important exams conducted every year for admission at the best engineering colleges.
Engineering Courses
Automobile Engineering
Aeronautical Engineering
Architecture Engineering
Bio-Medical Engineering
Bio-Technology
Chemical Engineering
Construction Technology & Management
Civil Engineering
Computer Science Engineering
Electrical & Communication Engineering
Electrical & Electronics Engineering
Information Technology
Industrial Engineering & Management
Mechanical Engineering
Marine Engineering
Petroleum Engineering
Telecommunication Engineering
Top 50 Engineering Colleges
With the announcement of Joint Entrance Examination (JEE) main results by the Central Board of Secondary Education (CBSE), the race among the successful students to secure a seat for themselves in the higher-ranked institute has begun.
As the students and parents filling up forms in different engineering institutes across the country, here is a list of the top 50 engineering colleges, the list is based on the rankings issued by the human resource development (HRD) ministry recently, that may help them to choose a better-ranked college. CLICK HERE
For Counseling & Admissions

UPDGME-NEET-Registration-Process – Copy – Copy
Engineering Entrance Exams: Syllabus, Cutoff, Results, Seats Matrix, Counseling etc ……